StellarMate X

StellarMate X
Description
StellarMate X is a compact and powerful Astrophotography Controller that supports numerous Mounts, Cameras, and other astronomical equipment. Powered by Open Source technologies and designed and built by Astrophotographer for Astrophotographers.
It provides unparalleled freedom in selecting your favorite platform to remotely control your equipment. You can use Ekos astrophotography tool on Windows, MacOS, or Linux. Furthermore, use StellarMate App on iOS and Android to automate your complete astrophotography workflow. StellarMate X is simple:
Connect your equipment (Mount, Camera, DSLR, Focuser, Filter Wheel..etc) to StellarMate X via USB or WiFi.
Connect to StellarMate X from either your Mobile, Tablet, or Laptop/Desktop Computer.
Start controlling your observatory and image from any major platform.
StellarMate X is quiet with no moving parts. It is four times faster than its predecessor StellarMate Plus and comes with double the storage and memory capacity enabling fast and seamless control for the most demanding and high-resolution astro cameras. It features a special VESA mount to secure it to standard dovetails and clamps.
The feature rich companion StellarMate App provides many functionalities:
Highly accurate Polar Alignment for both GOTO and non-GOTO mounts. Achieve the perfect polar alignment!

Framing Assistant to automatically center and rotate your field of view to match your desired orientation. What you see in the App is what you get in your camera.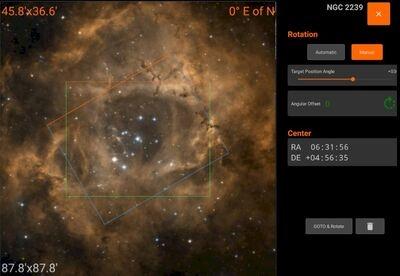 Live stacking to get spectacular images. See the fine details pop out as you receive more frames and increase the signal-to-noise ratio.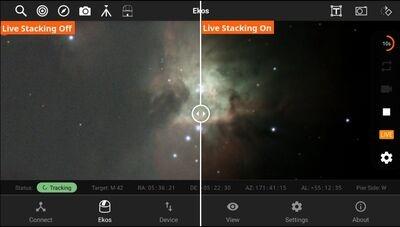 Get pin-point stars with tried-and-tested focusing algorithms suited to both fast and slow focal ratios.
Explore a tailored list of targets suited for your current time and location. One-click goto to center the target in your camera with sub-arcsecond accuracy.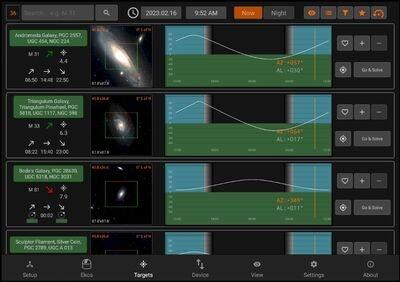 Gallery viewer with rich metadata support. Find and sort your images or export to your mobile device and computer.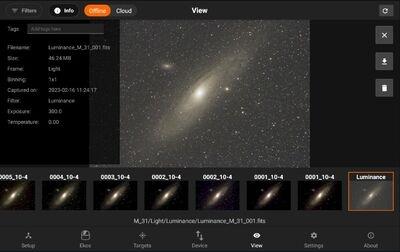 Get up-to-date weather and sky quality data including 3-hour cloud coverage.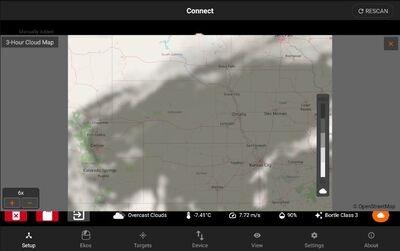 Control your dome, dust cap, flat-field light sources, and many more auxiliary equipment with our extensive equipment support.
Comparison
What's the difference between StellarMate Plus, StellarMate X, and StellarMate Pro?
$229

Broadcom BCM2711

2GB RAM

2x USB 2.0, 2x USB 3.0

32GB SD Card

Dual Band WiFi

Gigabit Ethernet

GPS/GLONASS

4x 12v DC Out

2x 12v Dew Heaters

1x 3-9v Adjustable

External Sensors

Stepper Control

$299

Celeron J4125

4/8 GB RAM

4x USB 3.0

64/128 GB eMMC

Dual Band WiFi

Gigabit Ethernet

GPS/GLONASS

4x 12v DC Out

2x 12v Dew Heaters

1x 3-9v Adjustable

External Sensors

Stepper Control

$499

Broadcom BCM2711

4/8 GB RAM

2x USB 2.0, 4x USB 3.0

64/128 GB SSD

Dual Band WiFi

Gigabit Ethernet

GPS/GLONASS

4x 12v DC Out

2x 12v Dew Heaters

1x 3-9v Adjustable

External Sensors

Stepper Control
Specifications
StellarMate X leverages a passive cooling technology, and has a good thermal dissipation to prevent overheating. No fan no noise, reaching a totally silent, dust free performance:
CPU: Intel Gemini Lake Celeron J4125 Quad-Core
GPU: Intel HD Graphics 600
Operating System: StellarMate OS
Memory: 4GB LPDDR4
Storage: 64GB eMMC Built-in
Expandability: Micro USB up to 2TB, M.2 SSD/NVMe 2280 up to 4TB
4x USB 3.0 Ports
2x HDMI 2.0 port, support 4K@60Hz
1x 3.5mm Audio jack
1x Gigabit LAN Port
1x Kensington Lock Slot
1x USB Type-C (Only for power supply)
Mount Adapter
Connect the included mount adapter (2) by securing it to the back of StellarMate X (1) with two M3 screws. The adapter provides threads that may be used to connect to external rings or dovetails using the included 4x M6 screws.
It is recommended to use Ikarus Universal Vixen/Losmandy Clamp (3) (sold separately) to attach StellarMate X to your Vixen/Losmandy dovetail (4).
Mount Connections
Depending on your mount, you may need to purchase an additional cable to connect mount to StellarMate X. Mounts that are connected over WiFi or USB usually do not require special cables.
| | |
| --- | --- |
| Cable | Supported Mounts |
| IKA-201 | SkyWatcher EQ6, Syntax, Orion Altas |
| IKA-202 | iOptron (Gotonova controller) |
| IKA-203 | Meade (Autostar #497 controller) |
| IKA-204 | Meade (Autostar II controller) |
| IKA-205 | Celestron (Hand controller) |
| IKA-206 | SkyWatcher EQ3, EQ5, EQ6 Pro, EQ8 |
| IKA-207 | SkyWatcher AZ-GTi |
Passwords
The default StellarMate OS password is smate
The default StellarMate WiFi HotSpot password is stellar@mate
Learning StellarMate
For new users without any prior experience in astrophotography, using StellarMate effectively can take a bit of a learning curve (like everything else) especially given the breadth of the features provided. Here are some useful resources to get your started:
Support
We are proud to offer top-notch support for our customers. Please make sure to check out the Frequently Asked Questions and Knowledge Base articles. To report any issues with StellarMate or Ekos, please submit a ticket and our support team should get back to you as soon as possible. Please make sure to submit the relevant logs to aid in diagnosing and resolving the issue efficiently.
Units in box: 1
Reviews
There are yet no reviews for this product.