Ekos Live is a an online Real Time cloud-based Web Application to remotely control your equipment from any where and at any time. Get notifications about the imaging progress, watch live video feed of planets, align your mount, and auto-focus, auto guide from one central location. Use it on your phone, tablet, or computer.
The interface is designed to be flexible on whatever platform you prefer. If you're mobile, you can get the best results by using it on your tablet.
How does it work?
EkosLive requires an internet connection. A fast and high bandwidth internet connection is recommended since image transfer depends on your internet speed. A low-bandwidth internet for device control is sufficient.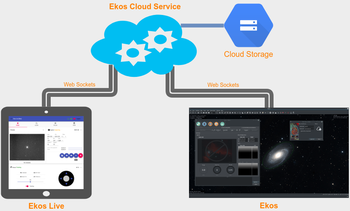 Cloud Storage is available for EkosLive Pro users. Captured images (not preview) may be saved to the cloud as lossless compressed FITS images (.fits.gz). Users can view the cloud images and utilize an advanced metadata system to search and categorize their images.
Supported Browsers
EkosLive is compatible with many modern browsers on desktop & mobile. However, we highly recommend using Google Chrome on all platforms to get the best experience.
Firefox is unfortunately not supported at the moment since it does not support dual websocket technology that is employed in EkosLive.
Getting Started
After you subscribe to EkosLive (Basic or Pro plans), you will be redirected to the EkosLive URL at https://live.stellarmate.com. Bookmark this URL for easy access in the future.
Connecting Ekos To the Cloud
Before you can use EkosLive Web Application, Ekos must be connected to the cloud. You can find the Ekos cloud icon in the main screen as illustrated below: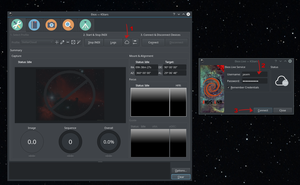 After a successful authentication, the EkosLive cloud icon should turn Green. Now you are ready to use EkosLive Web Application.
Using EkosLive Web Application
Go to the EkosLive URL and login with your username & password. After login, the EkosLive Home screen should be displayed: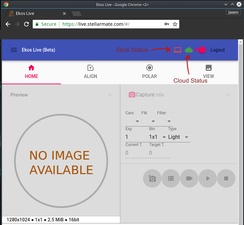 In the main toolbar, the following controls/icons are visible:
Main Menu : Click here to access the following:

Profiles: Start/Stop Ekos Profiles
Settings: Change EkosLive Settings such as notifications, sounds, and theme.

Ekos Status Icon: When Ekos is connected to your equipment, this icon should turn . When no profile is active and Ekos is not connected to your equipment, this icon should turn .
Cloud Status Icon: This icon should remain as long as you are connected to the internet. If it turns , check your internet connection.
If no Ekos Profile was started before connecting to EkosLive, the Ekos Status Icon should be Red. You can either start the Ekos Profile directly in Ekos, or by clicking the Menu, and then selecting Profiles, and then selecting which profile to start. Once the Ekos Profile is active, you can start using EkosLive controls.