StellarMate allows connecting bluetooth mounts easily through StellarMate Web Manager, all you have to do is follow these steps:
Connecting to a Bluetooth Device
1. Open StellarMate Web Manager
2. Click on Serial Port Assistant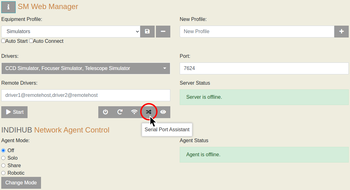 3. Click on
Next.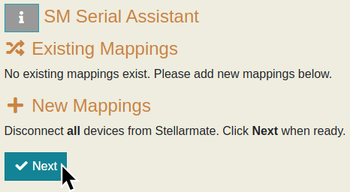 4. Check the
Bluetooth device checkbox, and then click
Next.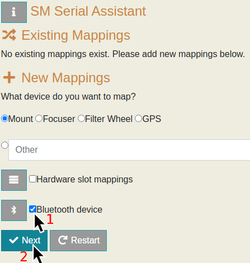 5. If you have already paired your device to StellarMate before, you can set it to Auto-bind on startup by clicking on the Bind
button next to the device's details. You will be met with a dialog that confirms that your device has been binded to StellarMate.

6. If you have not paired your device and would like to add a new device, click on the
Add New Device button.

7. The Bluetooth Wizard will now scan for available bluetooth devices.

8. If the scanner does not find any devices, click on
RESCAN.

9. If you find your device, enter the pin code and then click on the Connect
button. (eg. Shoestring Astronomy HC-06's pin code is 1234, you can find the pin code number by finding the bluetooth device's documentation made by the manufacturer)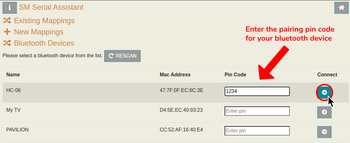 10. Wait a few seconds until a pop-up dialog shows up to confirm if the pairing and binding process was successful or not.
Unbinding a Bluetooth Device
To stop a device from being auto-binded on startup, go to the Bluetooth Wizard by following steps 1-4 and then click on
Unbind Previous Device.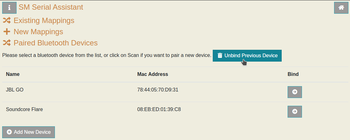 A confirmation dialog will be shown to you.
Details
Created : 2020-07-30 09:54:15, Last Modified : 2020-07-30 15:36:52
User Comments