Stellarmate offers remote troubleshooting support via TeamViewer (TV). If the support team request TeamViewer access for StellarMate, then please follow this guide to install and setup TeamViewer on your StellarMate.
Teamviewer (TV) active support period is Sunday to Friday from 05:00 to 11:00 UTC. Therefore, make ensure that TV is on and active during this period when communicating with our support team.
StellarMate must be connected to the Internet for remote troubleshooting to work. Connect StellarMate to your home WiFi network via the SM App, or connect Ethernet cable from StellarMate to your home router.
There are two ways to setup Teamviewer:
1. Using Ekoslive website i.e SM Dashboard
2. Using Mobile Application
Section 1: Using Ekoslive website i.e SM Dashboard
1. Open your browser and go to stellarmate.local or if you changed your Stellarmate's name, go to <Your Stellarmate name>.local
2. Click on the Software menu option.
3. Click on the Download button under TeamViewer.
4. TeamViewer will start downloading.
5. When it is fully downloaded, click on Install under TeamViewer.
6. You will see a loading screen, and when its done, you should see that it has been successfully installed.
7. Click on the Go To button (bottom-right side) and then click on DESKTOP.
8. A VNC page should open, click on Connect.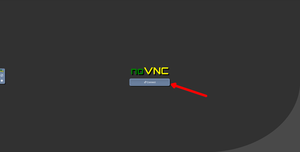 9. Type in "smate" for the password (without quotations.)
10. You will see a TeamViewer License and Agreement page, click on Accept.
11. Now find TeamViewer on the StellarMate system tray, and click on it.
12. A dialog will open, click on the cog.
13. A settings page will open, click on the Advanced Tab, and set option (2) to "Keep current" and set the password below it to "stellar@Mate123!" (without quotations). Then click on OK.
14. Now just keep a note of your TeamViewer ID, and give it to our support team whenever you need help with your StellarMate.
Section 2: Using Mobile application:


1. Open the Stellarmate mobile application,
2. Switch to device tab. If the teamViewer is already off, It will be shown as off.
3. When the TeamViewer is off, You can Switch on the toggle.
4. It will check:
if it's downloaded, if yes, then i will check if TeamViewer is installed.
If TeamViewer is installed, it will start the package and will display the TV ID of the user.
Note: Default password is smate@123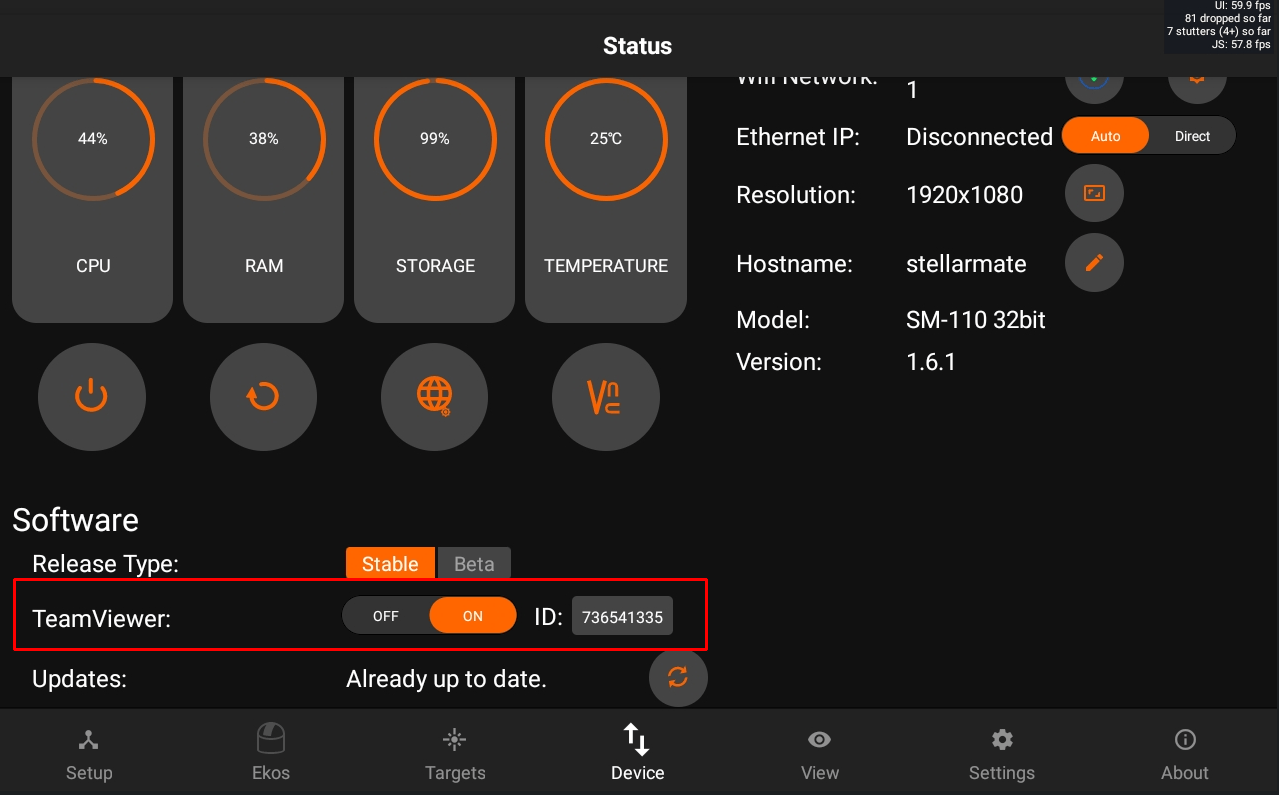 Details
Created : 2020-06-09 09:38:41, Last Modified : 2022-11-02 00:40:33
User Comments