Thank you for purchasing StellarMate! Please follow this guide before you starting using your StellarMate Gadget.
Stellarmate allows the user to control/access their scope and camera from one of 4 kinds of devices: phone, tablet, laptop, or desktop. In each case both the user device and Stellarmate need to be connected to the same network. If you have a wired network available, both Stellarmate and your laptop/desktop would be connected to the same wired network. For phones and tablets, WiFi is used (and can be for laptop/desktop as well). For WiFi, either you have your own WiFi (in range for both your device and Stellarmate), or you both use the WiFi hot spot provided by Stellarmate (which shows as Stellarmate).
Once connected, you use an app on your device for control/access. For phones and tablets this is usually the Stellarmate App. For laptop and desktop this is the KStars application. You define an equipment profile (that describes your connected scope gear) and connect to that for control.
After connection is established, you can do things like move the scope, enable tracking, GOTO specific objects in the sky, view camera images, take pictures of capture video, etc. The range of options here is extensive based on what gear you have available at the scope end.
1. Package Contents
After unboxing your package, you should have the following items:
StellarMate Unit.
1.8m HDMI Cable.
3A 5v microUSB Power Supply (Earlier versions came with 2.5A Power Adapter with On/Off switch).
2-meter 12v DC to 5v DC microUSB cable. This can be plugged to any 12v field battery to power StellarMate.
Optional Mount to USB cable (can be purchased separately on checkout).
A 32GB (or more, depending on your order) Micro SD card is already inserted into the StellarMate Gadget when it is shipped. It might have moved or detached during shipping, please make sure it is secured into its designated slot at the bottom of the unit.
Connect the microUSB power supply cable to StellarMate and then turn power on. You should initially see a red blinking red following by green. Your StellarMate is now ready to be used!
2. StellarMate App
StellarMate App is the Official App for StellarMate gadget. It is available for both Android and iOS smart phones and tablets. It is primary designed for tablets in portrait mode. While it can be used for phones, for the best experience, use it with a tablet/iPad. Download and install the App on your device before you continue.
The App is required to connect to the unit and configure it for first time use, so do this step now and do not skip ahead!
3.Registration
The StellarMate Mobile App requires Serial Key and Licence in order to operate the StellarMate Controller. NO registration is required to use the StellarMate Controller if you intend to use it directly via Web or via Ekos client on Mac/PC/Linux. This step is only required if you want to use the StellarMate Mobile App. You can continue to use StellarMate as is, including accessing the Web Manager and VNC:
3.1. Serial Number
If you received the StellarMate Controller, you will find the Device Serial Number on the back of the unit.
If you purchased StellarMate OS, the Device Serial Number is automatically generated for you.
3.2. Steps
In order to use StellarMate, you must complete the following steps:
Register an account on stellarmate.com
Activate your account after receiving verification email.
Go to the Licence Management page. You can register new devices and view existing registered devices and licenses.
Enter the device serial number to generate the Licence Key. On future visits, your devices and licenses will be listed in this page.
After the licence key is generated, you are ready to use the StellarMate App. The StellarMate App needs the following information ready:
Device Serial Number.
Licence Key.
Username (registered username on stellarmate.com). The username is Case Sensitive so enter it as is exactly.
Password (use same password when registering on stellarmate.com)
4. Login Information
StellarMate unit is shipped with a full featured Linux Operation System that you can directly access. The default username and password are:
username: stellarmate
password: smate

This is the same username and password you will use when access the unit over Web VNC as well. It is highly recommended to change the default password after your first login to the system.
When StellarMate is first started, it shall create a HotSpot (Access Point) named stellarmate. This is HotSpot SSID and the hostname of the unit. This information is required when you connect to the unit from browsers. The HotSpot SSID is protected.
HotSpot Password: stellar@mate
5. StellarMate App Initial Setup
StellarMate App must be used to configure StellarMate for the first time. This step is necessary to set up the initial time zone and geographic settings for the unit to properly operate.
5.1. Online sign in
When using the App for the first time, you are required to sign in to your stellarmate.com account. This is required in order for the app to download your licence and serial numbers necessary for the device registration. This is only performed once and requires active internet connection.
Enter your stellarmate.com username and password and click Sign In.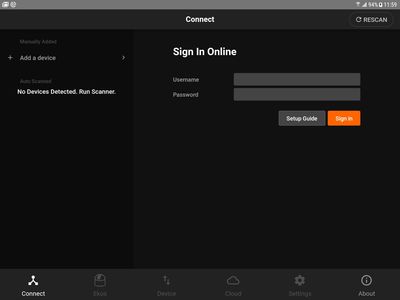 5.2. Scanning New Devices
After successfully signing in, the App Welcome Screen is displayed. Go to your device network settings in your mobile OS settings and join the stellarmate WiFi hotspot. Your mobile OS might warn you about no internet; please ignore that and proceed to launch the StellarMate App.
Before using the StellarMate App to configure your unit for the first time, please use the networking settings in your iOS/Android phone/tablet to connect to the HotSpot first. Once connected, proceed to run the StellarMate App.
From the main screen, click RESCAN:
The App will now begin to scan the network for any StellarMate devices. Wait until the scan is complete.
After scan is complete, the left side panel should contain a list of detected StellarMate. Click on the detected StellarMate controller.
5.3. Register the App
Before the app can be used with the device, it must be registered first. The registration information should be automatically filled in. However, if the registration information is not automatically populated by the App, enter the information obtained from Registration Step above. It is recommended to copy/paste the serial number and licence keys to avoid any mistakes while typing them in. The username and password must be the same as used in stellarmate.com website.
Once done, click register to proceed.
In case you uninstall and then reinstall the App, or install the App on a new device, you must register the device with the App again. You cannot sign in to the device unless it is registered with the App first.
5.4. Equipment Profile
After the app and StellarMate device is successfully registered, you can now configure your equipment profile. By default, the Simulators profile is selected. To add a new profile, click Add and select the drivers appropriate for your equipment. Enter the profile name and click Save.
The list of supported devices can be found in INDI Devices Portal.
Once a new profile is saved, select it from the drop-down menu. After the profile is selected, select or add new telescopes to associate with this equipment profile.
5.5. Scopes
Next, add the Primary and Guide telescopes (if exists) information. Click Add under Scopes to add a new scope.
Please use descriptive information as illustrated above to make it easy to select telescopes in the future. After the telescope is added, select it from the dropdown menu.
Now you are ready to start the equipment profile, click Start to start Ekos on StellarMate. Please wait until connection to all equipment is established. Make sure all equipment are powered and connected to StellarMate.
5.6 Ekos
The Ekos tab becomes active after the equipment profile is started and communication with device is established. It provides quick and easy access to many functionalities, but it is not a replacement for the full-fledged Ekos application. There is a still a gap in functionality between the mobile Ekos and desktop Ekos, and our team is working hard to bridge this gap. Nevertheless, all of Ekos core modules are supported in the App including Capture, Polar Alignment Assistant, Astrometry, Guiding, and Focusing.
5.7. Device
The device tab provide information on the device status, network status, and software updates.
When accessing StellarMate directly via Hotspot (Access Point), the unit IP address is always 10.250.250.1. Therefore, if you are having issue accessing the unit via its hostname, you can simply use the IP address in your browser to access StellarMate Web Manager (http://10.250.250.1:8624).
You can perform the following functions:
Change Name: You can change device name (and its hostname) to another name without any spaces. For example, if you rename it to myobservatory, the host name shall be changed to http://myobservatory.local.
Change IP
Connect to WiFi / Forget WiFi

Connect to Home WiFi: Select a WiFi network as detected by StellarMate and then supply the password if it is protected. After a successful connection, please wait up to 2 minutes before using any of the unit functions again.
Forget WiFi: WiFi network information is removed and StellarMate reverts to HotSpot mode (IP Address 10.250.250.10). If the Unit is connected to your LAN via Ethernet, you can still access it via its LAN IP address like before.

Access Web Manager
Access VNC Viewer
Restart Device
Shutdown Device
6. Connecting to StellarMate
Depending on how you want to connect to StellarMate, click on any of the following options
Details
Created : 2017-06-28 05:12:42, Last Modified : 2020-07-26 10:49:53
User Comments